How to Use Your Competition to Win More Contracts

GovTribe
Don't be intimidated by your competitors — use them.
With a 20% increase in competition and an 11% decrease in awarded opportunities in federal contracting, it's only natural to feel intimidated by your odds of winning a contract. But there is a way to use your competition to increase your chances of winning a bid — the Likely Bidders feature on GovTribe.
Likely Bidders is available on any of GovTribe's Federal Contract Opportunity pages. This feature shows you vendors who are likely to bid on a specific contract opportunity. (AKA, the companies you'll be competing against if you submit a bid.)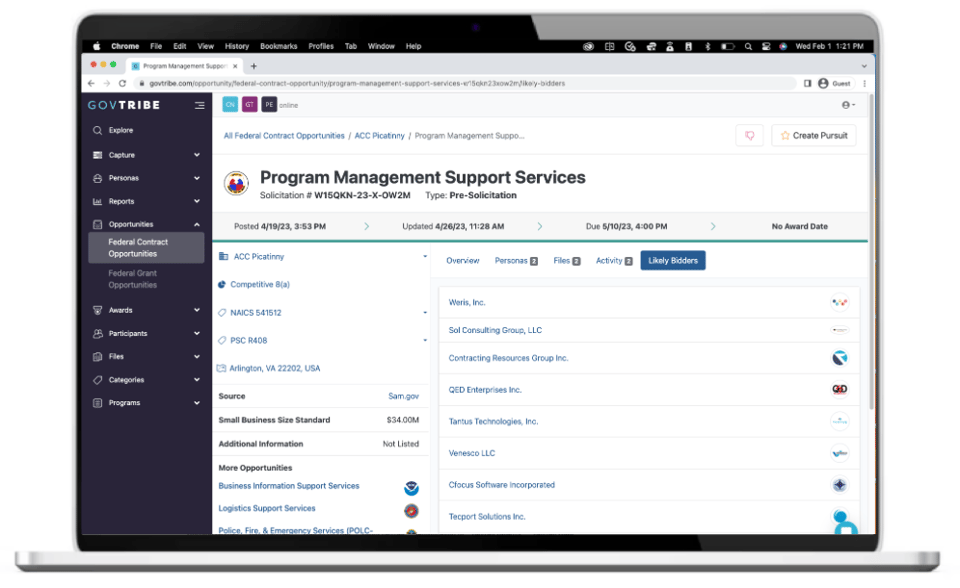 Only premium and standard users have access to this feature. See GovTribe's plans to learn more.

How to Use Likely Bidders
Scope out the competition


After you check out the list of likely bidders in a certain opportunity, you can click into each vendor profile to get a better idea of who you're up against. You'll be able to see a vendor's aggregate funding and awards since inception, as well as funding analysis based on award type, NAICS or PSC category, and more. This data can quickly help you determine what sets you apart from other companies and how you can leverage your unique key differentiators when responding to an RFI.




Discover teaming opportunities
Don't forget — your competitors can make great teammates. Use Likely Bidders information to identify vendors who might be looking for subcontractors to help them complete the requirements of the contract. By cross-referencing a contract opportunity and a likely bidder's NAICS or PSC code, you can identify gaps in their products or services that your business has the ability to fill. Then, you can propose teaming up on a contract for a potential vendor.


Find joint venture opportunities


You can also use Likely Bidders to find a lucrative joint venture rather than a teaming opportunity. If you are an eligible small business, you can partner with a mentor company to compete together for any set-aside contract that you qualify for, including 8(a), veteran-owned, woman-owned, and HUBZone set-asides. Use Likely Bidders data to identify potential mentor companies and learn more about their history and financial resources before starting partnership negotiations.



This is only the beginning of what you can do with competitor data and other federal contracting insights found on GovTribe. Spend less time searching for data and more time winning bids by choosing a GovTribe plan today.
More GovTribe favorites:
The only thing easier than finding federal contract opportunities with GovTribe is
starting your free trial
.