3 Time-Saving Government Contracting Tricks

GovTribe
If you work in federal government contracting, you know it can be a long and tedious process, from finding relevant contracts to strategizing how to win them. Luckily, the GovTribe team knows all about this pain point and developed a few features in the GovTribe platform to help.
Quickly sort through contracts with

rapid data analysis

and

simple summaries

.



GovTribe

has a

rapid data analysis feature

that scans through millions of contracts in seconds, reducing research time and accelerating decision-making. Finding the right contracts quickly ensures you spend the bulk of your time winning opportunities — not looking for them.

Plus, know at a glance which opportunities you should go after with GovTribe's

intelligent summaries

. GovTribe uses AI to summarize all contracts in concise, readable language. Now, you can understand any opportunity immediately in search results or in the opportunity itself, under "AI Summary."


Find potential competitors and set aside partners for any contract with AI.

Immediately know who your competition is by checking out who is likely to bid on any given contract with GovTribe's Likely Bidders feature. Learn more about how you can utilize this feature in our recent blog, How to Use Your Competition to Win More Contracts.

Additionally, every contract shows an "AI Insights" tab to help you find partners who have won set aside contracts similar to that opportunity.





Use AI insights to find more opportunities that match your

scope of work

and

past contracts.



If you find a contract that is a good fit for you, you can use

AI insights in the GovTribe platform

to automatically

search for other opportunities with similar scopes of work

. This is a great way to keep a win streak going.



And to make things even easier, GovTribe's

recommendations feature

utilizes deep learning technology to

automatically

recommend opportunities based on your interests

. You're used to hunting down contracts — but now GovTribe can bring them to you through your explore page and daily emails.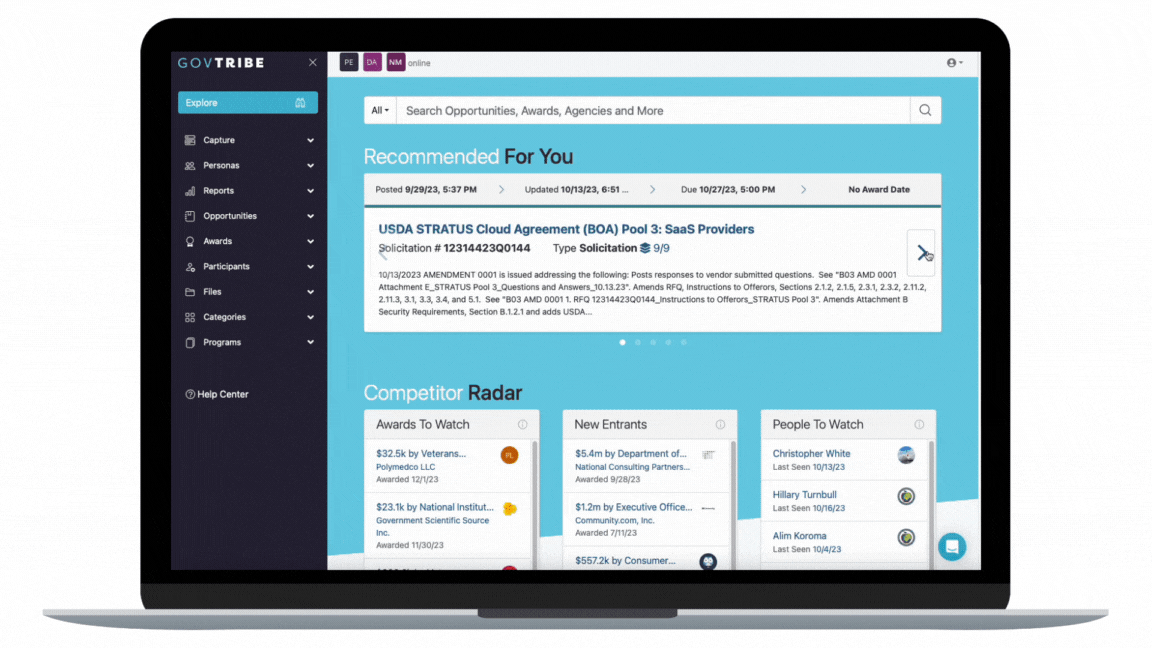 More Ways to Make Government Contracting Easier
Spend five minutes checking out these other federal government contracting time savers.